Kverneland 94125 C - 95130 C
Four rotor CompactLine and ProLine rakes 
10.00-12.50m adjustable working width
Highlights
Maintenance-friendly CompactLine gearbox
TerraLink Quattro rotor suspension system
Hydraulic adjustment of working and swath width
Highly manoeuvrable – for the sharp turns up to 80⁰
Easy and intuitive control function
The Kverneland 94125 C and 95130 C are targeted at making lighter work of tough and demanding operations. With an impressive capacity of 12.50m working width, straightforward design and the possibility to adjust both work and swath width, they are designed to boost the complete process of collection and pick-up, altering to the changing crop intensity during the season. The Kverneland 12.5m 4-rotor rake is offered with a choice of either ProLine or CompactLine gearbox. Both machines are similar in construction.
For heavy-duty use, the Kverneland 95130 C ProLine machine has been developed.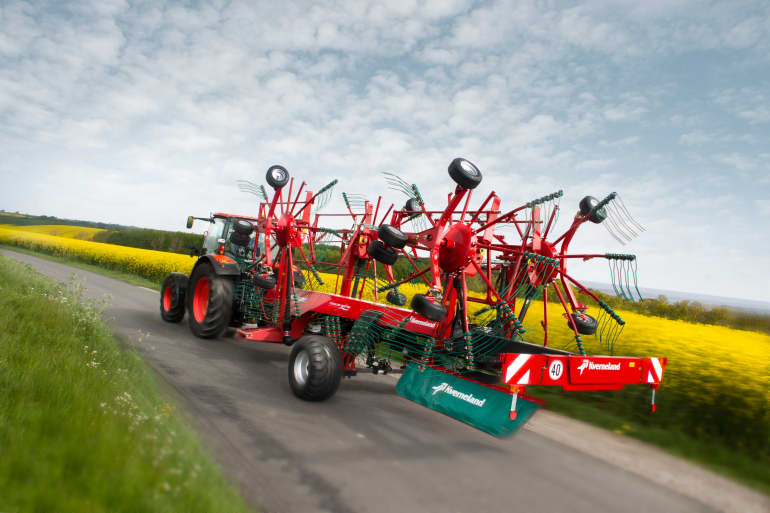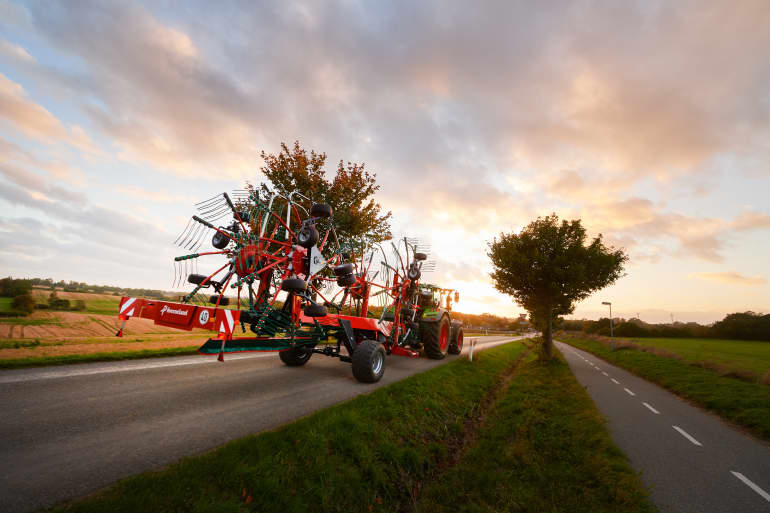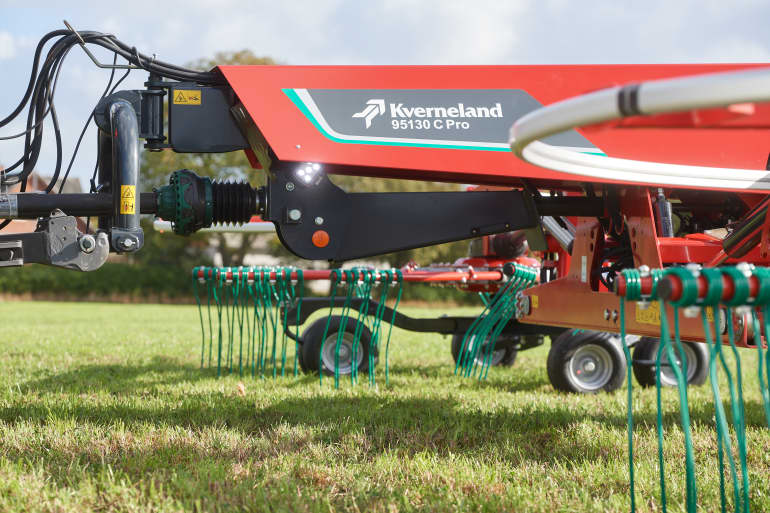 These Kverneland models give no reason for wasting time, not even when moving between fields. Just raise the rotors and off you go, securely below 4.00m transport height. There is no need to leave the tractor to remove tines arms. Large transport wheels and hydraulic brakes are standard.
For storage all tines arms are detachable to allow a storage height as low as 3.40m. A strong and stable storage foot ensures fast and trouble-free coupling and uncoupling.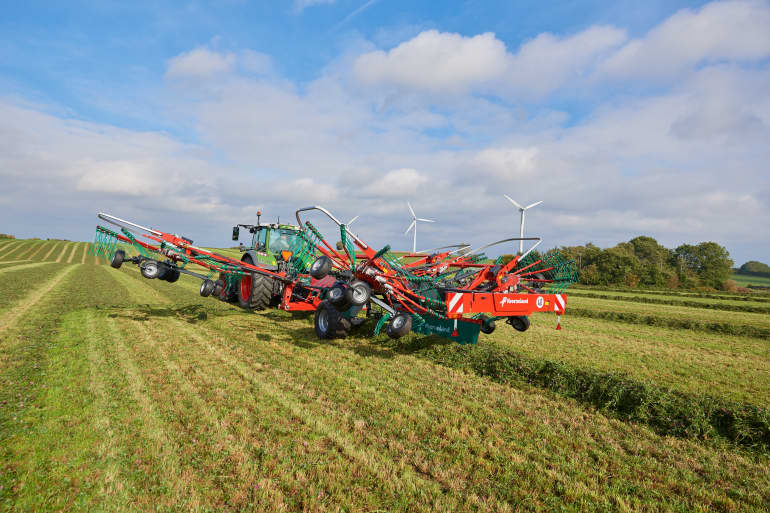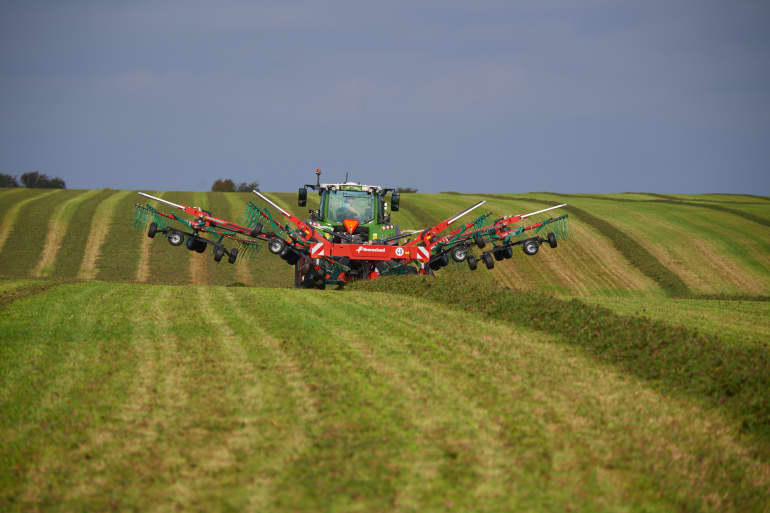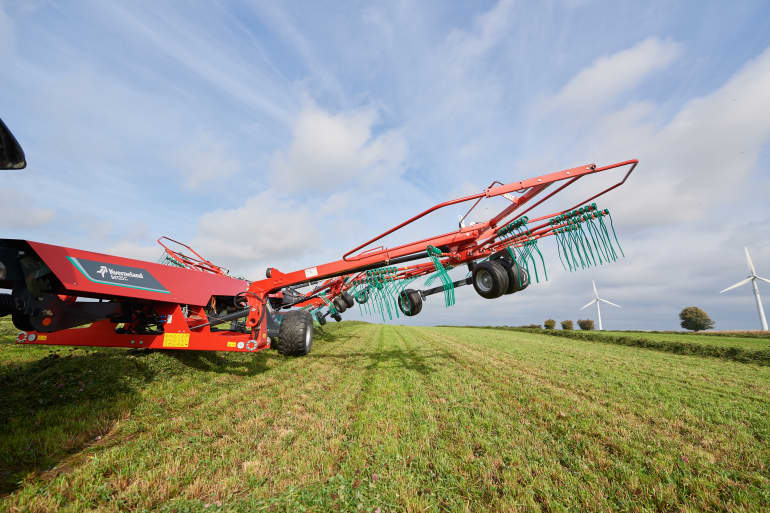 The Kverneland Models 94125 C, 95130C and 95130C Pro come with enhanced headland management. In addition to high ground clearance of rotors during headland turns it is possible to tailor time delay between lifting/lowering of the front and rear rotors according to driving speed and field conditions. This is done mechanically in an easy and uncomplicated way.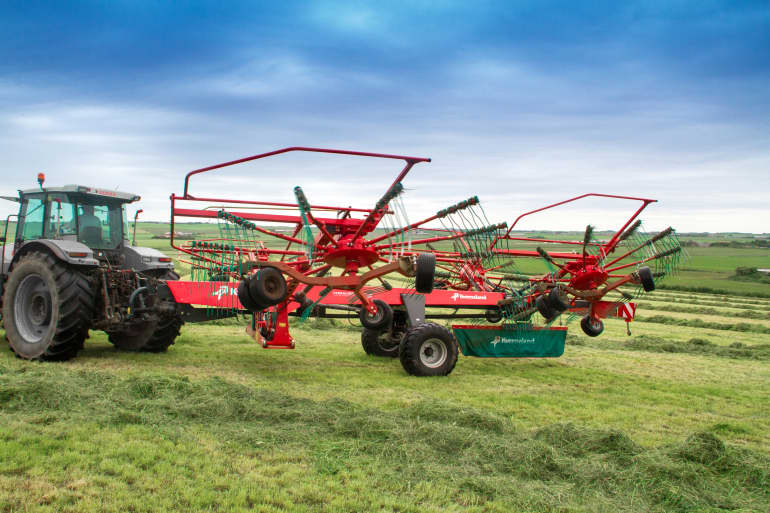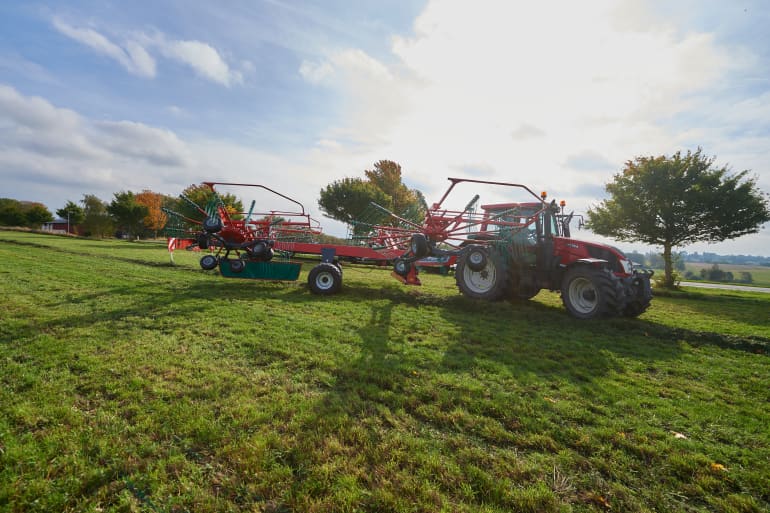 The Kverneland 94125 C will do sharp turns of up to 80⁰, both on headlands and during transport when passing through narrow gate ways.The rotors can as a standard feature lift pairwise, convenient for raking crop away from fence lines or when raking low crop fields
The hydraulic adjustment of working and swath width allows you to customise swath intensity and width to the capacity of the following machine, conveniently handled and controlled from the tractor seat. Working width can be set between 10 and 12.50m and swath width can be adjusted between 1.20 and 2.20m, adding the necessary flexibility.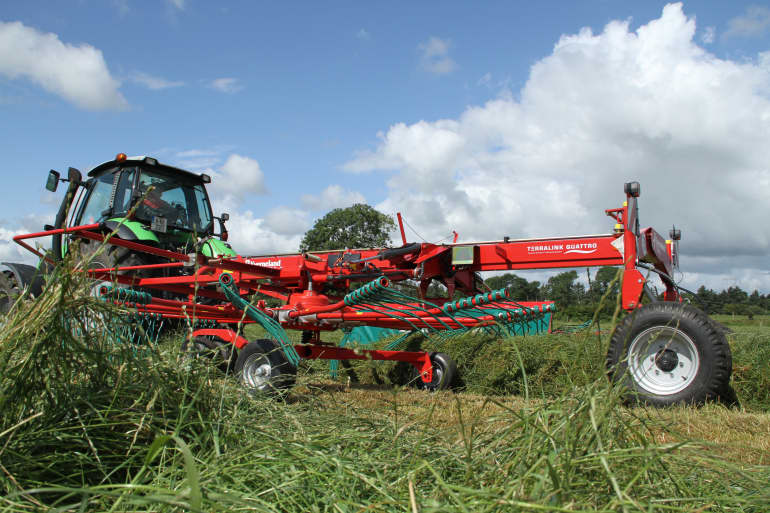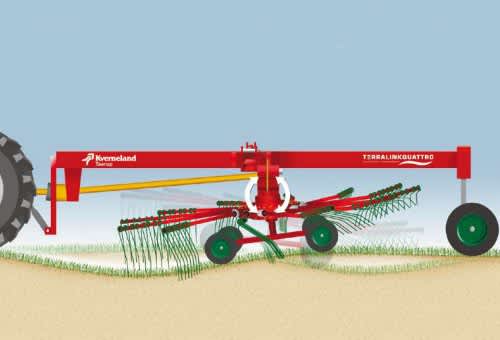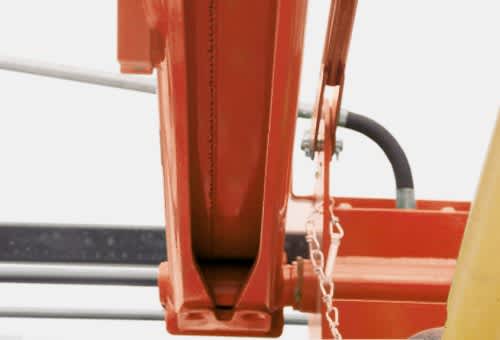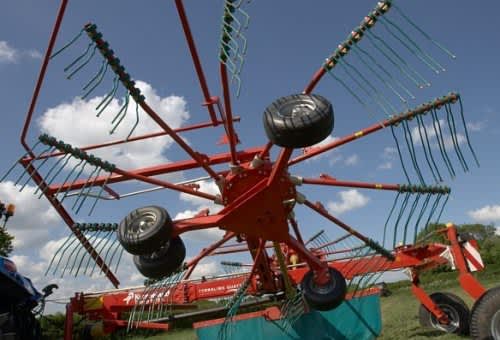 Kverneland rotary rakes are designed to do well-shaped and clean swaths, achieved with precision in every part of the raking.
The ability to follow ground contours is important to avoid dirt in the swath - especially in uneven field conditions.
The TerraLink Quattro system controls the rotor in 3 dimensions, with a unique combination of an undercarriage with 4 wheels and a specially designed rotor suspension system. This ensures superb raking performance, even at higher forward speeds.
Maintenance-free system - no pivots or joints to wear out.
Automatic rotor suspension, ensuring smooth operation.
Built-in pressure bias on front wheels prevents lifting and tine bounce.
Optimal ground following for clean raking at high forward speeds. All wheels are positioned close to the tines.