Growing grass for herbage seed is not a task not to be lightly. Notoriously challenging to combine, Dorset grower Nigel Friend has worked his way through many different harvesting scenarios over the last 35 years, and has ditched a direct cut approach in favour of mowing.
"We had a lot of hassle direct cutting in 2015, and I dragged an old mower out of the shed and cut a strip of grass to try it," he says. "I couldn't believe how much easier it was to combine – instead of going three feet forward and two feet back, we could actually keep going."
Trading as the R Shepard Partnership, the improvements made have encouraged the farm to increase its grass seed acreage year-on-year. Mr Friend says 125 acres of herbage seed are now grown at the 540-acre Lower Farm, Gussage St Michael, with a further 125 acres of grass seed contract harvested elsewhere.
"With a little refinement, and some adjustments to timing, we've been able to treble our grass seed acreage," he says. "Where we would previously be combining grass at 35-40% dry matter, we're now picking the crop up at 7-8%. Crop flow is so much easier."
The key he says, has been the use of a tractor-mounted Kverneland 2836m plain disc mower. Bought specifically for the task, the mower's 3.6m working width matches his Shelbourne 3.6m draper header.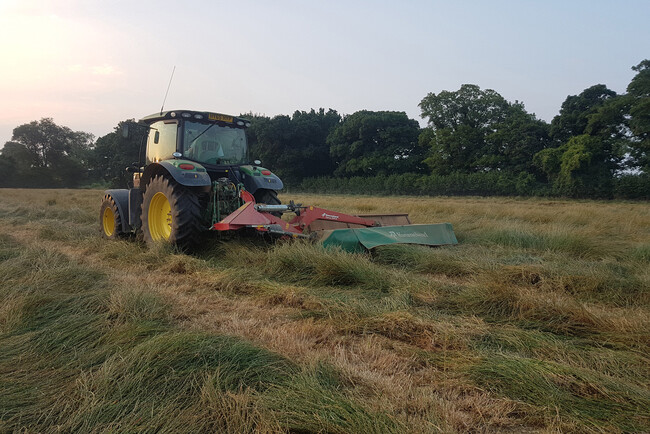 "The way the mower's discs lay the grass in a rectangular swath is absolutely perfect for us," he says. "Stalks lay at the bottom and seed heads sit on top. Seed losses are reduced dramatically, because anything that does knock off – and it is a delicate crop - now sits in the swath and not on the floor. We've seen higher yields too, from reduced losses."
He says the improved drying and harvesting process has delivered many advantages.
"We're saving around £8,000/year on drying costs, and the drier crop means we can harvest 45 acres/day instead of just 15 acres," he says. "The combine doesn't have such a hard time because the grass is drier, and the combine's fuel consumption has dropped by around 75%."
With beef and sheep enterprises at Lower Farm, the resulting grass swath left by the combine can be baled and wrapped immediately, to deliver a quality forage product for his livestock.
"We've also noticed that the grass swaths do attract more wildlife to the farm," he adds. "Over the years, we've made our fields smaller and more manageable so we're less likely to be caught out by the weather, and we now have 29 miles of hedgerows around the farm."
Growing new leys on a two-year rotation still creates tough stalks when mowing starts at the end of June.
"A clean cut is essential to improve swath presentation, so we fit a new set of original Kverneland blades every day before mowing," he says. "We do shave the ground leaving a 25-30mm stubble. And we're doing well to hit 10kph with our JD6125R, but the results are worth it."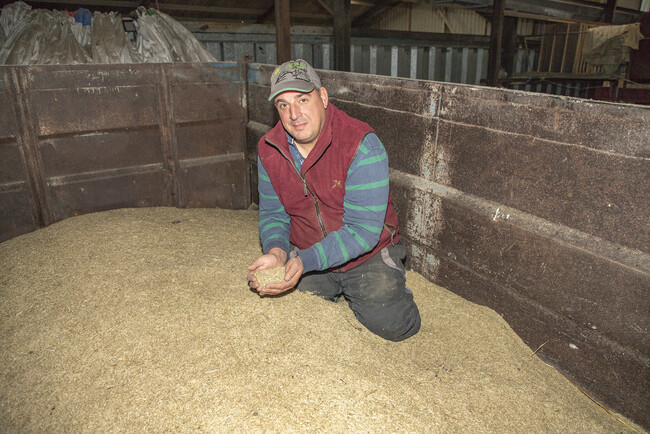 "By mowing ahead of combining, we're catching more crop - typically, 15% more yield," says Nigel Friend.