Dan Crowe is Kverneland's forage and feeding specialist in the UK. He brings a wealth of knowledge and experience to the sector, in a career that spans 23 years with the company.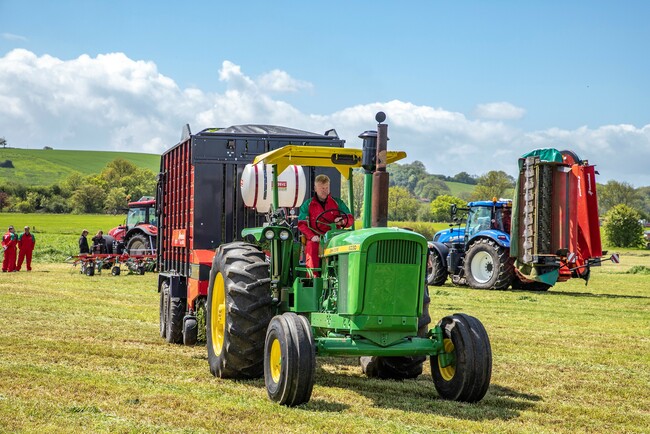 "When you get stuck into feed rations and cow performance, the level of professionalism from within the dairy industry just goes up a notch," he says. "Agriculture becomes a totally different world, almost scientific, with virtually no margin for error, and our ability to support customers in these areas becomes essential."
His career path is one that has remained closely allied to the grass and forage sector, following agricultural engineering at Harper Adams at degree-level, from 1987-1991.
Time on a large dairy farm and then with a silage contractor promoted Dan's interest in all things forage-related. He joined Kverneland as a service engineer based in Devizes, Wiltshire, to help develop the grass products side of the business, before progressing to the product manager's role in 2002.
With an expanded portfolio of grass and forage products to manage, he soon found himself in direct contact with customers, in addition to enjoying a close working relationship with Kverneland Group factories.
He has been instrumental in the continued development of the highly successful 860-series of bale shredder/bedders, with high-profile livestock producers around the UK. But increasingly, he is focussed on supporting dairy customers via dealers, to ensure expert advice is easily accessed to get the best from Siloking feeders.

"We've taken a partnered approach to help our dairy customers to find the best solutions and improve their businesses, while helping them get the very best out of their investment in Kverneland machines," he says. "And that support extends from the smallest bale shredder to the largest self-propelled diet feeder."
"There is tremendous variety in the livestock and dairy sectors," he says. "With a range of Kverneland machines that start with forage production - mowing, tedding, raking – and finish with feeding and bedding, there is always an opportunity to make a real difference with our customers."
April 2020