Kverneland Roc 1073 S
Universal Merger with variable working width from 7 to 7.3m 
Highlights
A belt with saw-shaped, fibreglass-reinforced crossbars
Wide suspended tandem wheels under the belt provide protection for grass fields
The unique belt design results in even and fluffy swaths
Crop placement and swath volume can be highly versatile
Thanks to the high volume of oil, there is no need for a cooling fan
Discover the next level of raking with the Kverneland Roc 1073 S merger. Increase crop quality and improve animal health with our mergers. The machine is designed with low maintenance requirements and easy access for repairs, which makes it cost-effective and productive to operate. The Kverneland Roc 1073 S is a two-pickup merger equipped with a hydraulic side shift of the pick-up units, allowing the operator to use the machine for side or centre delivery. Side delivery with the narrowest working width of 7m, opens to a maximum of 7.30m as centre swath.
An excellent suspension system provides precise lifting and transportation of crops while avoiding soil contamination, ensuring high capacity in all conditions. With its standard six-bar pick-up and roller, this machine is perfectly equipped for late short, wet, sticky silage cuts. The reinforced belt features saw blade-shaped cross bars, performing well in all crop conditions. In high-volume dry crops, the fully suspended roller can be lifted hydraulically from the cab in any position. The Kverneland Roc 1073 S merger has a hydraulic dual scale that can be used for side or centre delivery, and is built on two elements. The working width of the side delivery ranges from 7m to a maximum of 7.30m when creating a centre swath or turning two swaths. When pickups connect, the belt merger moves the crop to one or both sides. Expanded pick-ups create a central or double swath with belts moving left, right or both sides. As the crop moves along the conveyor belt, there is no roping, allowing multiple pick-ups and transportation to create large swaths for high-horsepower choppers. 
The Kverneland Roc 1073 S can be folded to 2.5m width for easy road transport and has road suspension for comfortable and fast transportation.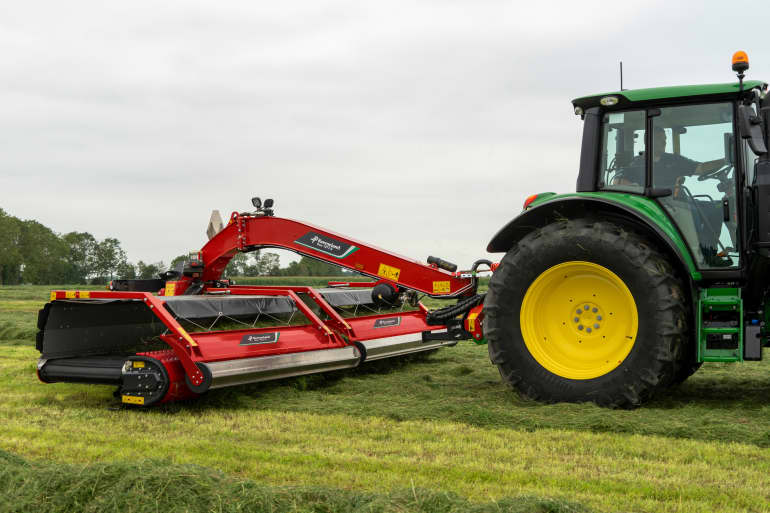 Large roller to operate in all crops
The roller is in all positions hydraulic suspended
Specially designed belt and pickup
If the crops are dry, the roller can be lifted from the cabin to protect the leaves
A single belt system with two pick-ups
Fiberglass-reinforced saw blade-shaped crossbars provide optimal transportation for dry and wet crops
An actively-driven belt, equipped with a sprocket and gear belt, ensures continuous operation even in heavy crop conditions
Most maintenance and repairs can be done without removing the belt, and all parts can be disassembled with a single wrench
The speed of the belt and pick-up can be precisely adjusted
The tension of the belt is evenly distributed between the left and right sides since it is adjusted centrally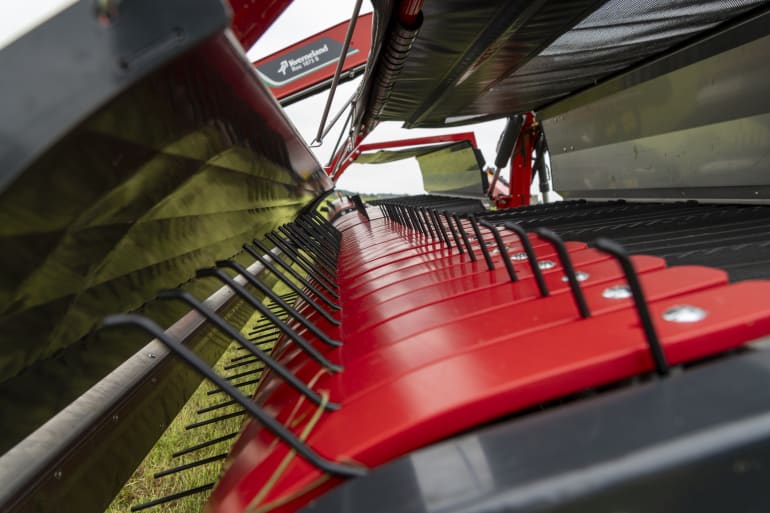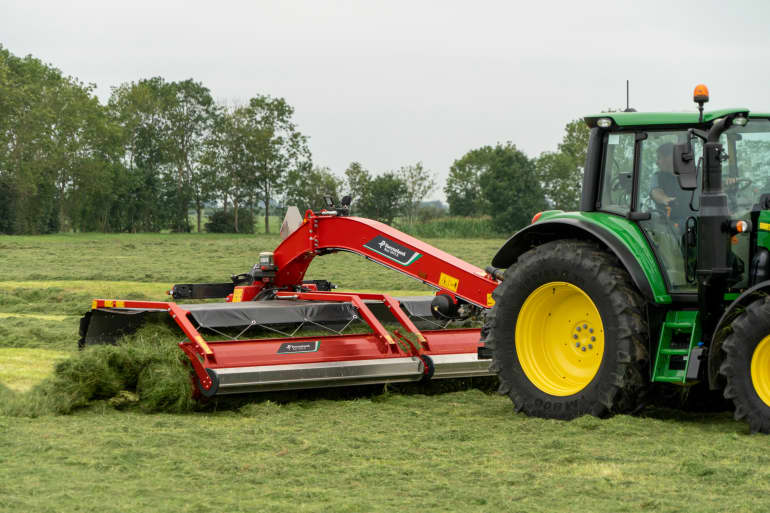 Controlled pick-up with two cams and six tine bars
For heavy crops such as silage and maize straw, it is recommended to use wide stripes
Heavy-duty plastic strippers maintain shape when hitting rocks and their design prevents crop loss
Even the shortest crop can be transported on the belt with the hydraulic adjustable roller suspended in all independent positions
Replacing tines with only two bolts to remove (one per tine and one per plastic stripper) using only one hand
It is possible to repair bearings, cam track, and tine bars without the need to disassemble the pick-up
Electric height adjustment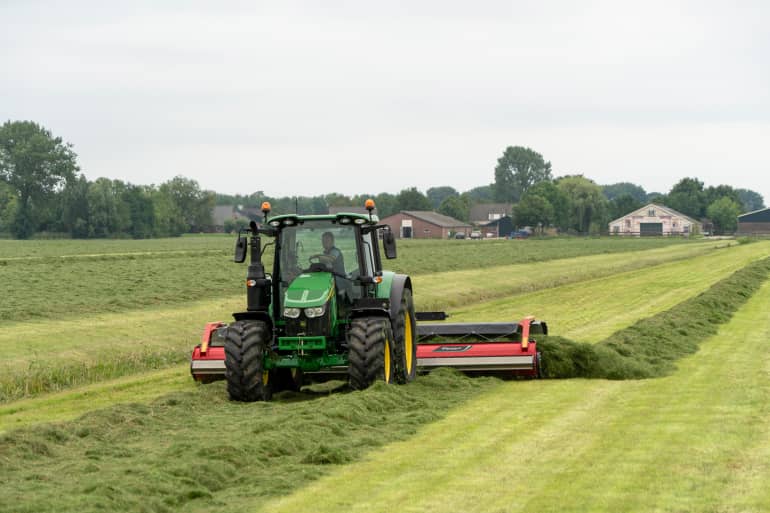 The machine is designed for both centre and side delivery
The side delivery has a working width of 7m, expanding to a maximum of 7.3m
With expanded pickups, the rake can create a central swath or side belts turning left or right
As the crop is transported on the belt, there is no roping, so the swath can be picked up and transported several times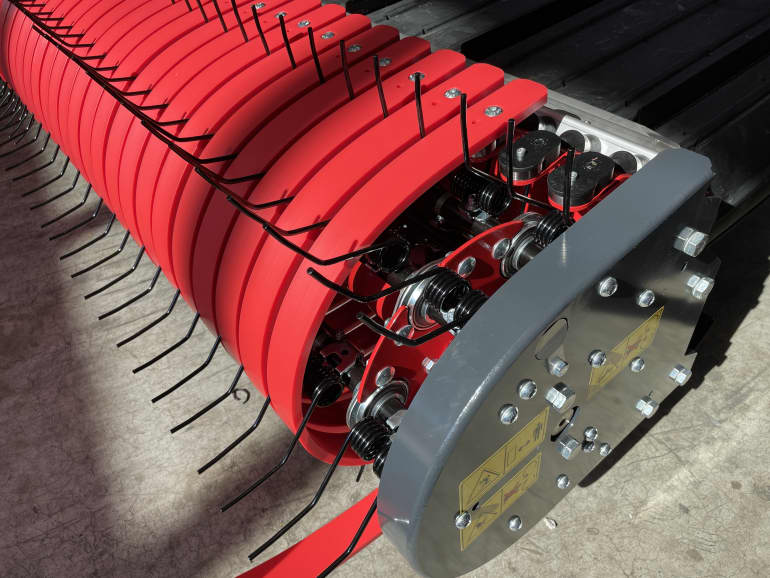 Our mergers are designed and built to be maintenance-friendly
All components can be easily disassembled
Wear parts are in small size and replaceable with limited efforts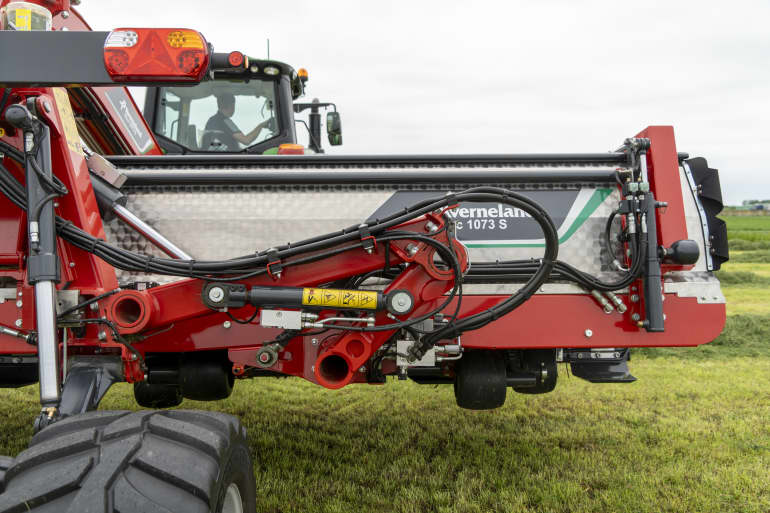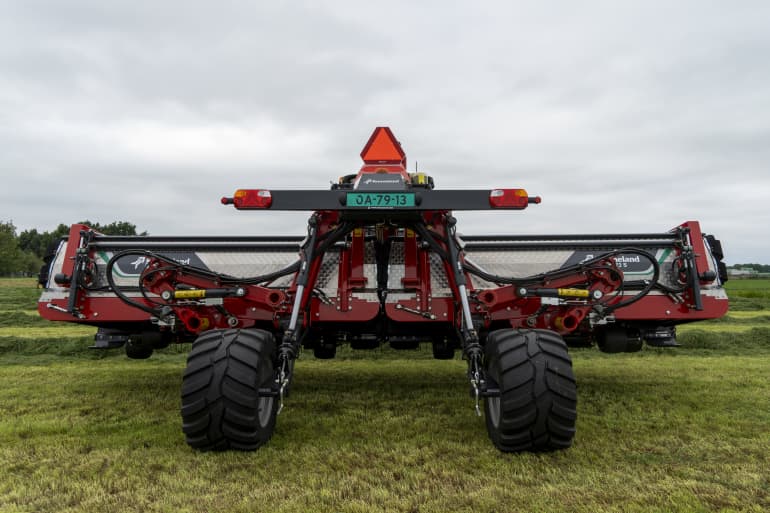 To ensure a high speed and a clean crop in all conditions, four suspensions are used
The pickup's standard tandem wheels protect the ground from damage
The tandem wheel comes equipped with a spring suspension system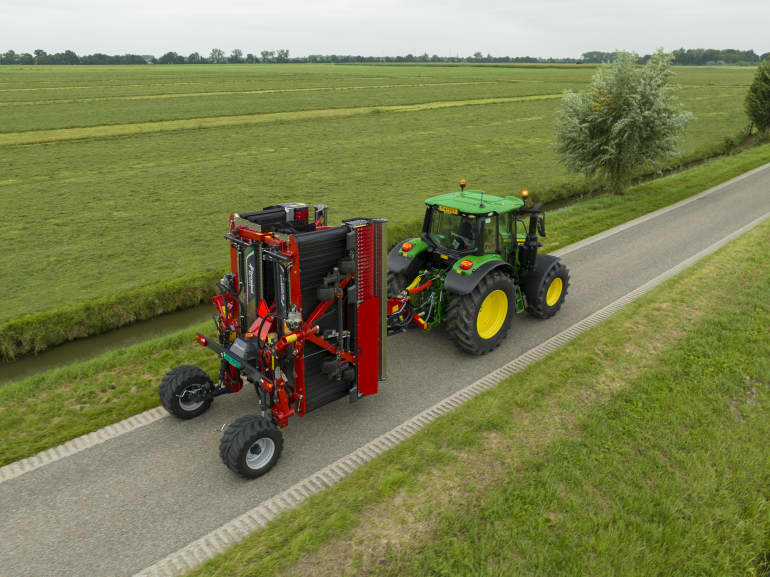 With a transport width of only 2.5 m the machine can travel easily on narrow roads and does not require any special permissions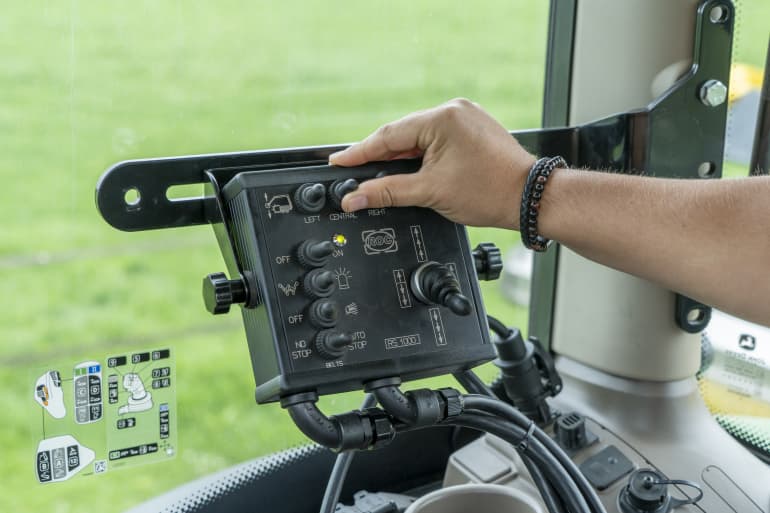 An easy-to-use control panel manages all essential functions.
The terminal provides optional features such as belt auto-stop when lifting the machine to ensure a clean swath ending
The safety system allows basic machine functions and operation without electronics
Technical specifications
Download brochure
| | | | | | | |
| --- | --- | --- | --- | --- | --- | --- |
|   | Working width center swath (m) | Pick-up width (m) | Belts n | Transport width (m) | Power requirement    (hp)   | Weight (kg) |
| Kverneland Roc 1073 S          | 7-7.3 | 2x2.95  | 2 | 2.5 | 70 | 3440 |
Find nearest dealer