Ploughing is profitable by controlling factors that can be controlled. The best soil preparation should result in high yields and high plant quality while preserving soils. Revenues shall then rise. Controlling costs is equally important. Fuel consumption, work efficiency and the wearing of parts can be controlled and hence minimised by choosing the right brand.  
The Kverneland steel heat treatment technology can minimise the wearing of parts. Less wear ensures efficient working days, prevents downtime and minimizes costs generally speaking.
The Kverneland technology applied to the ploughs pays off. More than 135 years of experience in developing special steels and heat treatment processes have resulted in an unsurpassed quality and wear resistance.
Kverneland 12 hours carburising process results in creating 2 steels in 1 sole mouldboard: flexible inside to absorb shocks and hard as a diamond on the outside for optimum wear resistance.
The heat treatment processes are carried out and adapted not only to a few selected parts but to the complete plough. This results in ploughs lighter than competitors´ and extremely robust while delivering outstanding ploughing performance.
For instance, the induction hardened frame allows using lesser steel than competitors, therefore less weight to pull and lift, while ensuring a higher resistance.
Kverneland ploughs are reputed for reaching some of the highest prices on the second hand market. The durability and reliability of Kverneland ploughs contribute by far to a higher profitability.
Low wearing of parts
There is another way in which you can make profitable ploughing a reality: by working with original Kverneland spare parts. Of course, you are free to choose cheaper copies than our durable quality products. There are a lot of those around.
A test carried out in Sweden compared the wearing of Kverneland parts with 4 non-original parts perceived identical. The results indicated that Kverneland original parts wear far less. The actual difference in the wearing between the cheaper non-original parts and Kvernelands´ was as high as 41% for shares and 44% for the reversible points. More wear means more time spent changing parts. While your time is your money!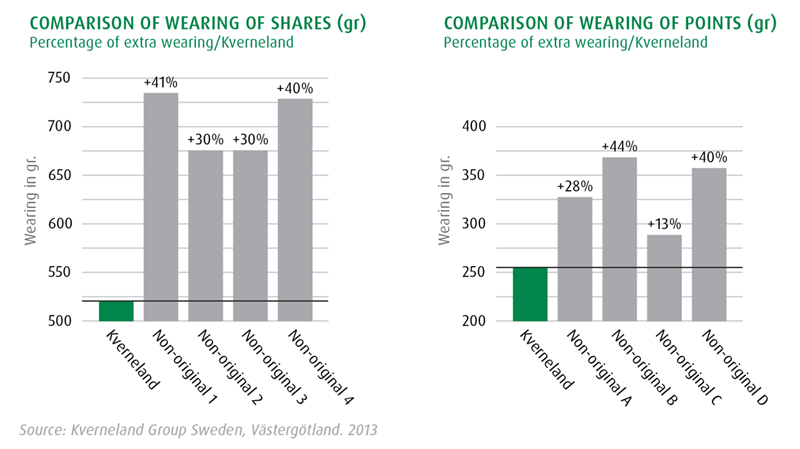 CONTROL LOW INPUTS
Buying Original Kverneland spare parts will save you time and money.
We do not compromise quality with cheap solutions. Kverneland Original Parts will always work and fit as intended to optimise your high quality ploughing performance.
22. February 2018