Kverneland has a complete new range of mounted and trailed field sprayers. Besides the introduction of the new trailed sprayer models, iXtrack T3 and iXtrack T4, also the iXter mounted sprayer range and the iXtra front tank will be presented in the new design and colour scheme with new features.
Ease of Use - Suitable for Every Farmer
Kverneland sprayers are being developed in close cooperation with farmers as one of the main stakeholders and therefore designed for precise, easy and cost effective spraying. High precision spraying is an important factor. The Kverneland sprayer technology ensures that the spraying job is done with the highest possible efficiency. Our in-house developed electronic solutions are an example that assist the driver in maximising his output but still keeping new features easy to work with. It guarantees a cut back of waste, reduction of input costs and minimises the impact on the environment.
Stability - Stay Save During Work and Transport
Kverneland sprayers have a low centre of gravity and compact dimensions, which are beneficial for higher working speeds, safe transport and easy parking on the yard. This means stability on the road, as well as in small or hilly field conditions.
The trailed iXtrack T3 and iXtrack T4 sprayer and the self-propelled iXdrive are equipped with a smooth suspended parallelogram that is active in both field and transport position secure excellent driving comfort. The iXter mounted sprayers have vertical and compact folded boom design to combine working widths from 12 up to 30 metre with narrow transport dimensions. The iXtrack T and iXter sprayers stay within 2,55 metre transport width. One of the new features is that the Kverneland sprayer design includes LED road lights for increased visibility.
Stability, a compact design and excellent visibility contribute to maximum transport safety, not only for yourself but also for other road users in today's busy traffic.
Precision Spraying – Optimal Boom Performance
The soft boom balancing with limited vertical movement minimises spray height deviations, securing correct crop coverage. Boom Guide active height control systems on the Kverneland sprayers help the farmer to maintain chosen spraying height, also when field slopes or crop conditions change. With the ultrasonic sensors on the boom it gives an ultimate guidance in the most challenging field conditions.
Intelligent Electronics - Simple Control to Boost Your Performance
Kverneland sprayer electronics offer a wide range of controls that may suit each farmer demands. The iXter A mounted sprayer range can be controlled from a simple EC Remote Control or the proven easy to use FMC spray computer. The iXter B range can be controlled with the same controls, but can also be equipped as ISOBUS sprayer, which means easy plug and play with the IsoMatch Tellus GO or PRO or any other AEF certified tractor terminal. The iXtra front tank is available as non-ISOBUS or ISOBUS compatible version, to suit farmers specific requirements. The iXtrack T and iXdrive series are 100% ISOBUS compatible as standard.
The IsoMatch Grip, developed by Kverneland Group Mechatronics, adds control to the fingertips for easy control of an ISOBUS compatible sprayer. From 1 up to 44 functions over 4 modes can be programmed freely by the operator. So, a customer can start with basic functions and add functionality later on demand. Due to the ISOBUS AUX-N functionality the IsoMatch Grip can also be used to control other ISOBUS implements.
The IsoMatch GEOCONTROL application is available as an option on the IsoMatch Tellus GO or PRO terminals. In combination with a GPS receiver, it fulfils the needs in terms of easy, smart and efficient farming, by automating Section Control and Variable Rate applications.
Liquid Management - Optimal Crop Protection with Environmental Focus
The Kverneland sprayers are developed for optimal crop protection with environmental focus. Specific features making the sprayers easy to fill exact and clean thoroughly to save costs and minimise the impact on the environment at the same time.
iXclean Pro is the next generation of the well-known Kverneland automatic valve management system. This means that all functions can be controlled from the cab's ISOBUS terminal. Switching between filling, agitation, spraying, diluting, priming, rinsing and tank cleaning is extremely easy: just push a button!
The iXflow spray line recirculation system with pneumatic or electric nozzle control creates a fast-reacting spraying system, well suited to higher spraying speed and automatic functions with GPS. iXflow-e with individual nozzle control and free programmable sections is available as an option on the new iXtrack T-series.
The Kverneland sprayer range provides value out of every drop, because every crop deserves the best care.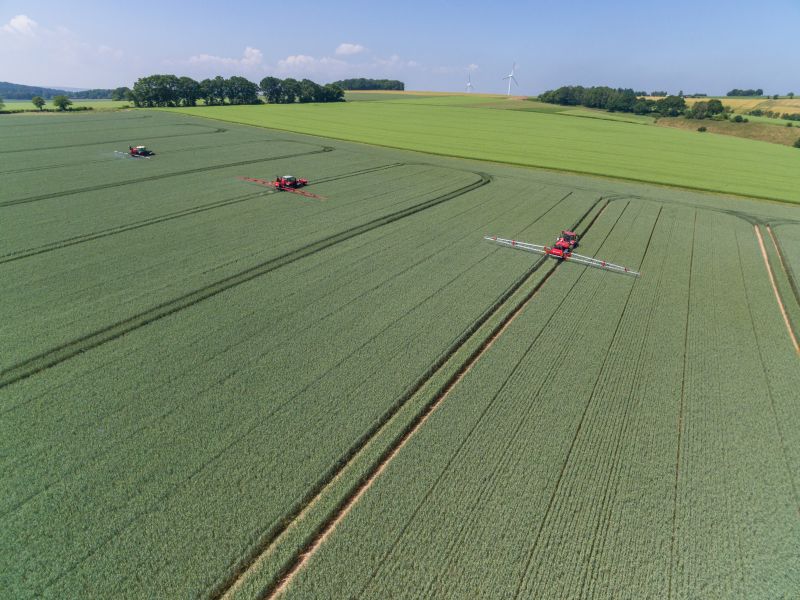 12. November 2018