As product manager for arable systems, David Holmes brings a wealth of experience and specialist knowledge to Kverneland UK.
Formerly sales director with Great Plains UK and Simba International, David's knowledge of cultivations and seeding within arable crop establishment systems will continue to add depth and diversity to the portfolio.
His role involves working with Kverneland in the UK and also with Kverneland Group across Europe, as the business expands its product offering in this key area.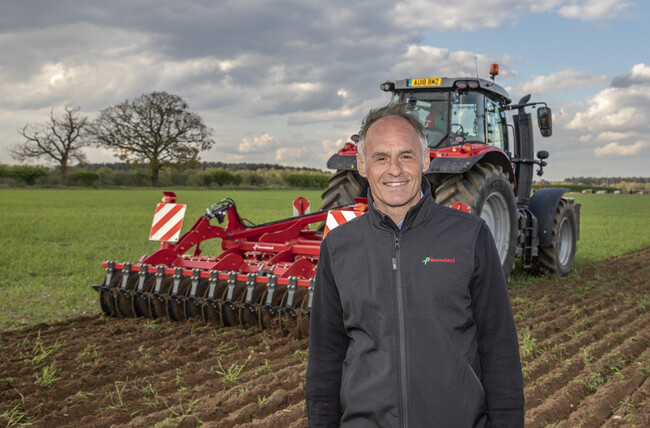 Maintaining soil structure is a key aspect of arable crop production according to David. And one of the best ways to ensure compaction is addressed and drainage is improved, is to reach for the subsoiler.
"Timing is everything, but using a subsoiler is all about how we leave the finish, in combination with what's happening underneath the surface," he says. "The subsoiler's Pro Lift tine point is the key element that fractures soil up through to the surface, while the wings provide heave and additional cracking."
The Flatliner is a new addition to the Kverneland portfolio, and it joins the range following the recent acquisition of Great Plains by parent company Kubota. Flatliner is a V-format sub-soiler in 3m (FL300) and 3.5m (FL350) working widths, offering three or five-leg options with shear-bolt protection.
Equipped with Pro-Lift tines, the bolt-on clamps allow adjustment of tine spacing across the main frame to suit different farming systems. Three different wing sizes are available, to achieve different fracturing according to soil types and conditions.
"Wings can be a standard design, wide wing or a high-lift design," he says. "But it is important to reach for a spade before operation, to investigate what level of soil repair is required."
"And when in use, it is important to uncover the leg, wing and point while the Pro-Lift tine is in the ground, to assess the repair work that the Flatliner is doing."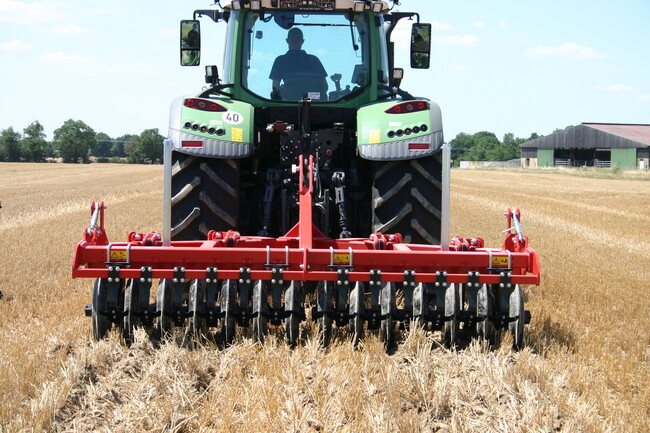 Mr Holmes says that of equal importance is the packer roller. And a 600mm DD unit affords depth control and consolidation.
"DD rings are a two-piece boron steel construction for longevity," says David. "They are held together by a patented pressure design, reducing maintenance. This feature avoids the need for welded rings to achieve strength and integrity – and tightening the axle provides clamp-load to keep the rings tight."
He says that the profile of the DD rings, with its carefully chamfered shoulder profile, exerts the correct level of consolidation to depth into the soil to provide weather-resistance without capping.
"There is a 230mm spacing between the tops of the DD rings, with the additional 30mm either side providing an ideal weatherproof seedbed. And this feature is even more beneficial on the DTX deep loosening cultivator."
The Kverneland DTX provides a 3m working width, and in its transition to the Kverneland range from its former green livery, has undergone considerable upgrades.
Firstly, it has received the Qualidisc's cultivation disc assemblies, hydraulic depth adjustment and the option of side levelling boards. DTX also gets headstock improvements and better frame durability – the latter from the improved manufacturing processes at Kverneland Group's LLG facility.
"Pro-Lift tines are a key featuee of this machine," says David. "And while they are currently available with shearbolt protection or hydraulic reset protection."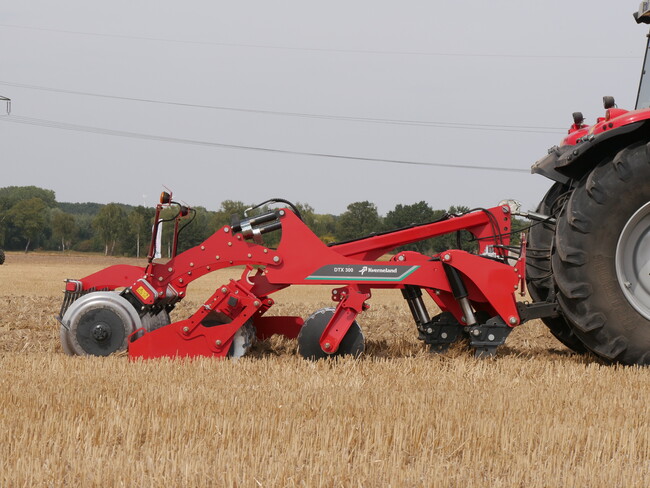 "Generous space and stagger between the two rows of discs that follow the Pro-Lift tines makes this a serious option for those looking for a one pass cultivation system ahead of drilling," he adds. "The consolidation left by the DD rings leaves a series of weather-proof ridges which makes this an ideal implement for use as primary or secondary cultivator, that can also work on top of ploughing."
The revised DTX is rated for 300hp.
May 2018