Kverneland 97150 C comes with the new GEORAKE section control, taking the hassle out of finishing swaths correctly before turning on headlands. GEORAKE automatically lifts the rotors at the right time, leaving well-shaped swaths while improving productivity.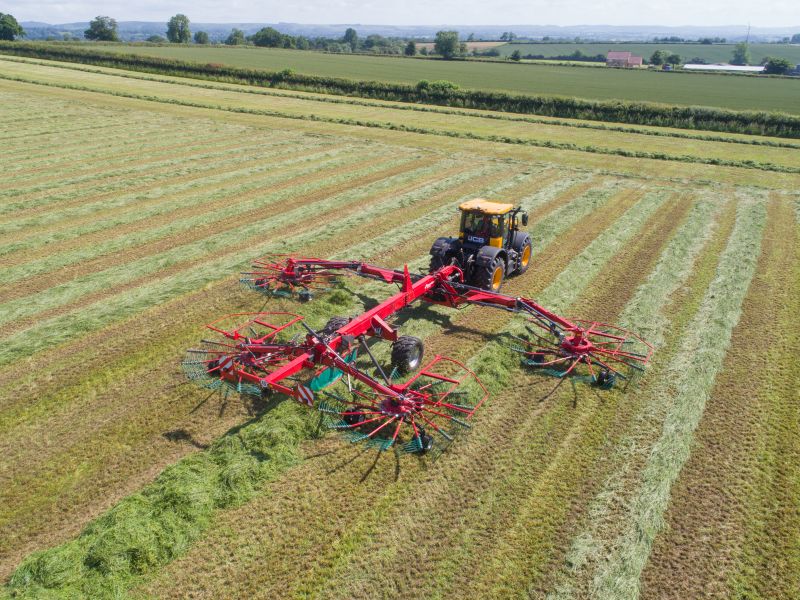 Make Your Capacity Go Even Further
The Kverneland 97150 C is an exceptionally productive four-rotor rake providing an immense working capacity of 15m. Packed with features it leaves no room for compromises and easily adapts to differing conditions. Four rotors, maintenance-free ProLine gearbox and adjustable working width of 9.80-15.0m 
Section Control – Manage the Headlands
With its span of 15m working width and four rotors this kind of rake requires a skilled driver. To maximise productivity, precision is needed, from both machine and operator, especially during headland operation. You need to lift and lower the rotors at just the right time, to rake up crop in the most efficient manner and prepare the perfect swath for pick-up. This often means that an extra round, to clean up the headlands, is required. This is now history with the introduction of the 97150 C GEORAKE.
This essential operation has been fully automated and each of the 4 rotors is individually controlled via section control, without any attention needed from the operator, who can then fully focus on optimising the raking operation, keeping up the working speed and turning efficiently on headlands. GEORAKE reduces the risk of mistakes and the need for corrective actions and hence extra work.
GEORAKE Lifts Productivity
GEORAKE registers the area already raked and covered. If a rotor enters into an already raked area, it will automatically lift. Each rotor lifts individually and acts as one of four sections. When entering an un-raked area the rotor automatically lowers again in due course to prepare the next swath. No crop is left behind, and no swaths on headlands are destroyed by interference from the rotors. Work is done correctly first time.
When raking awkwardly shaped fields GEORAKE automatically avoids raking into already prepared swaths, automatically lifting the rotor or rotors that are involved, without the need for any counter steering from the driver. The driver can focus on driving and keeping up speed and pace.
8. December 2017