Kverneland Roc 1038 S
Front and rear mergers with 3.8m working width
Highlights
Exceptional execution for silage and short-crop markets
Six bar pick-up and wide stripes provide the best performance in all types of crops
The headstock can be equipped with an optional hydraulic suspension
Standard wide suspended tandem wheels and emergency skids to protect the pickup
Electric adjustable working height
The Kverneland Roc 1038 S merger is designed to be mounted on the front or rear and close to a tractor. Its lightweight design enables it to work effectively in hilly regions and areas with challenging terrain. The merger can be mounted on the front or rear of the tractor and allows raking without driving on the crop. With a transport width below 3m and standard mirrors the machine makes driving on the road more comfortable.
The unique design of the pickup and belt enables efficient crop picking and consistent flow. Although primarily used for raking, this merger can also turn existing swaths without roping during the crop transportation, allowing the swath to be picked up and moved multiple times.
The tractor's hydraulic oil flow allows the belt to rotate left or right. The machine has excellent performance and good ground tracking with standard mechanically-suspended tandem wheels.
The merger's headstock is automatically locked when lifted, allowing for easy adaptation to the ground.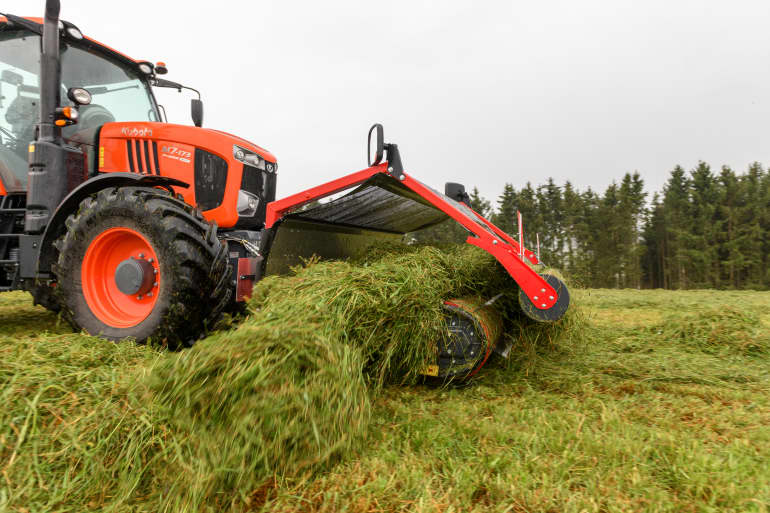 Large roller to operate in all crops
The roller is in all positions hydraulic suspended
Specially designed belt and pickup
If the crops are dry, the roller can be lifted from the cabin to protect the leaves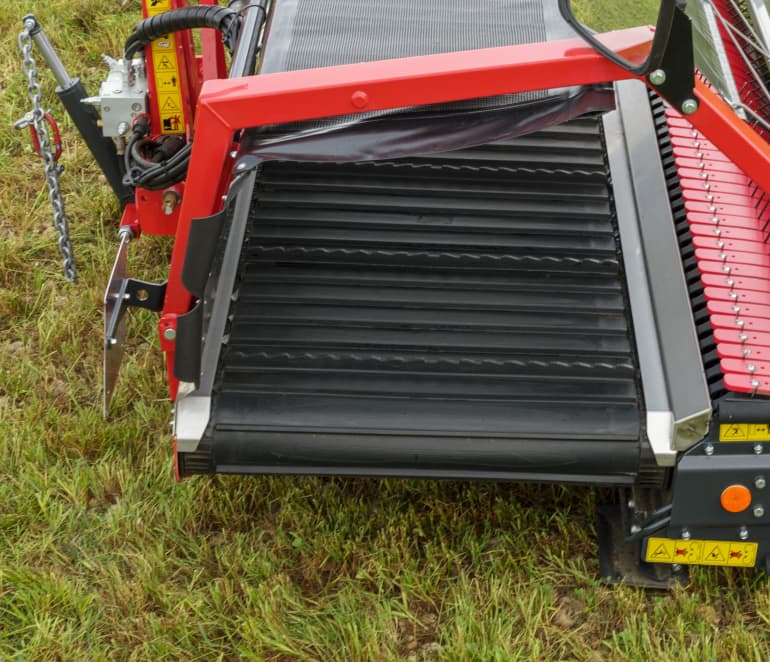 A single belt system
Fibreglass-reinforced saw blade-shaped crossbars provide optimal transportation for dry and wet crops
An actively-driven belt, equipped with a sprocket and gear belt, ensures continuous operation even in heavy crop conditions
Most maintenance and repairs can be done without removing the belt, and all parts can be disassembled with a single wrench
The speed of the belt and pick-up can be precisely adjusted
The tension of the belt is evenly distributed between the left and right sides since it is adjusted centrally
Controlled pick-up with two cams and six tine bars
Transport even the shortest crops easily with hydraulic adjustable and suspended roller
Heavy-duty plastic strippers are designed to maintain their shape even when they encounter rocks.
The design of strippers is specifically made to prevent crop displacement caused by the tine
Replacing tines with only two bolts to remove (one per tine and one per plastic stripper) using only one hand
It is possible to repair bearings, cam track and tine bars without disassembling the pick-up
Electric height adjustment

Our mergers are designed and built to be maintenance-friendly
All components can be easily disassembled
Wear parts are in small size and replaceable with limited efforts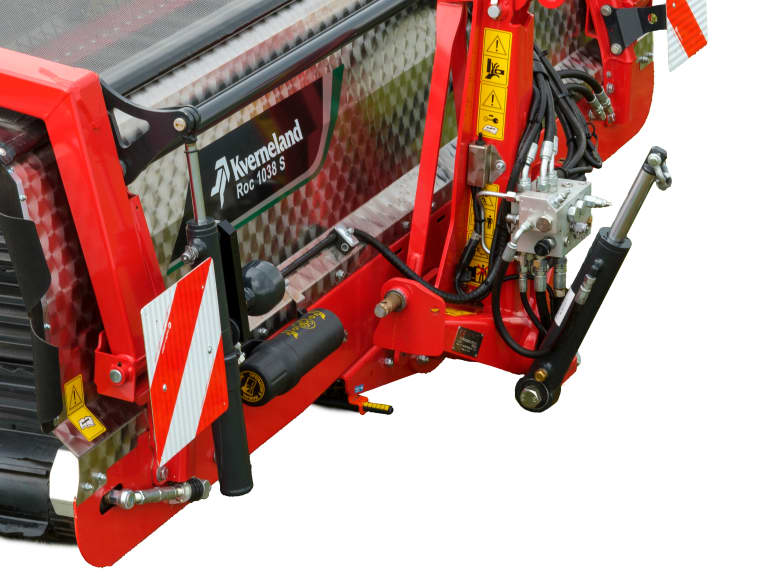 To ensure a high speed and a clean crop in all conditions, four suspensions are used
The pickup's standard tandem wheels protect the ground from damage
The tandem wheel comes equipped with a spring suspension system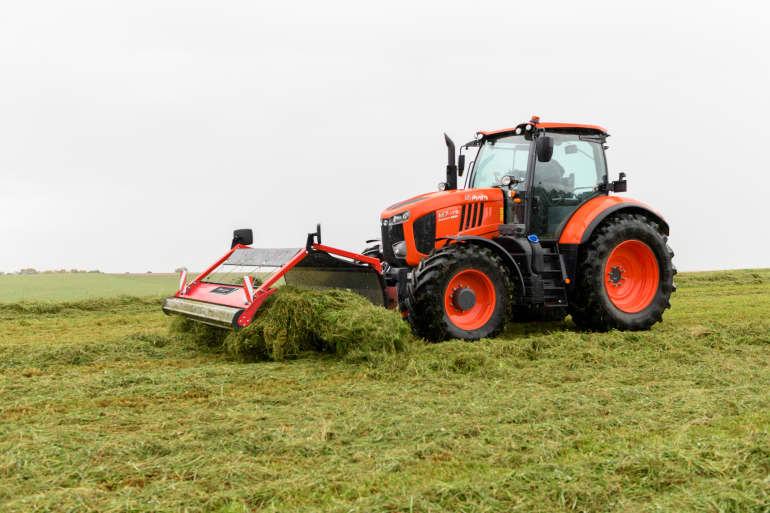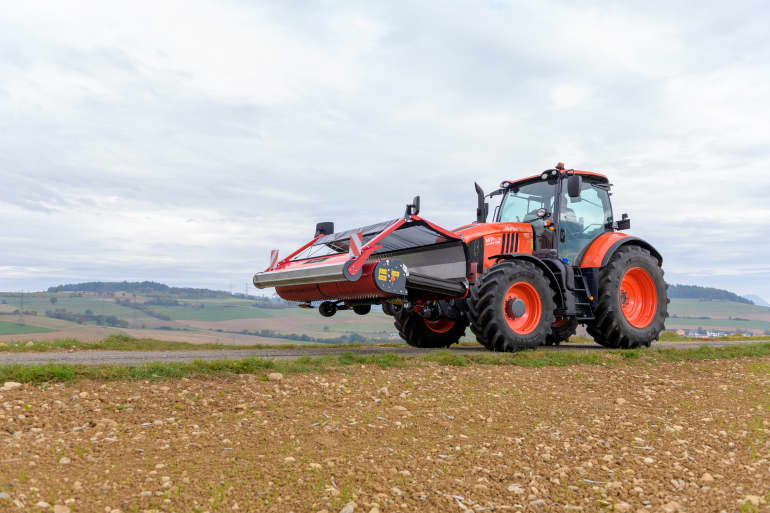 Perfect solution for raking in front of the wheels (rear mounting is possible as well, for driving in reverse)
Easy to enter corners and small fields
Ideal combination with small squares or round balers
Ideal for turning existing swaths like straw after the combine
Technical specifications
Download brochure
| | | | | | |
| --- | --- | --- | --- | --- | --- |
| | Working width (m) | Pick-up width (m) | Transport width (m) | Power requirement (hp) | Weight (kg) |
| Kverneland Roc 1038 S | 3.8 | 2.95 | 3  | 60 | 980 |
Find nearest dealer