QuattroLink – Racecar Technology Applied for Mower Conditioners
Kverneland 3300 series is fitted with the new Kverneland suspension concept called QuattroLink. QuattroLink provides an accurate tracking ability and a highly flexible working range. The mowing unit is pulled by the 4-arm suspension, fitted onto a fixed carrying arm that allows the mowing unit to float independently over the field, adjusting precisely and instantly to any changes in ground contours.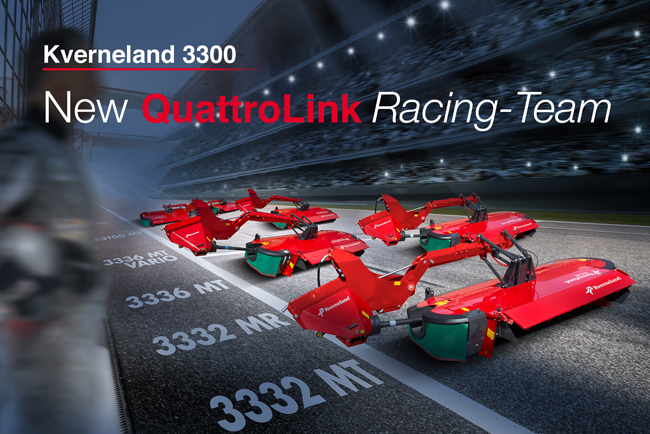 The 4-arm suspension provides the mowing unit with an exceptional flexibility in adapting to demanding ground contours. The mowing pattern of Kverneland 3300 series is extremely flexible with a vertical working range of 400mm upwards and 300mm downwards and a transverse adaptation range of 30°.
How You Will Benefit from QuattroLink
Like a race car you want better tracking, ability to go at faster speed and adjust instantly to changing field conditions when operating your mower conditioner. These are the main benefits you will experience when running the Kverneland QuattroLink mowers. The four suspension arms provide the mowing unit with an exceptional flexibility in adapting instantly to demanding ground contours inviting for higher speed and more productivity.
The Kverneland QuattroLink mowers are available in following variants:
| | | | |
| --- | --- | --- | --- |
| Model | Working Width | Conditioner | Adjustment of Overlap |
| Kverneland 3332 MT | 3.20m | SemiSwing Steel Tines | 150mm mechanical setting |
| Kverneland 3332 MR | 3.20m | Roller Conditioner | 150mm mechanical setting |
| Kverneland 3336 MT | 3.60m | SemiSwing Steel Tines | 150mm mechanical setting |
| Kverneland 3336 MT Vario | 3.60m | SemiSwing Steel Tines | 400mm hydraulic adjustment on the go |
| Kverneland 53100 MT Vario | 9.80-10.20m | SemiSwing Steel Tines | 400mm hydraulic adjustment on the go |
20. March 2017